If you're looking for jobs at the moment, then you'll know the competition is even fiercer than ever. To make themselves stand out, candidates are increasingly pulling ambitious job-seeking stunts to draw attention to their skills, cause a stir online and woo potential employers.
From the man who put up a billboard with his face on it in central London to a woman who made herself out of Lego, we've rounded up some of the best job-seeking stunts of the last few years. Because while we're not saying you have to stand outside in the freezing cold with a sandwich board advertising yourself to get a job, you can definitely take inspiration from the boldness and creativity of these candidates' approach.
The man who handed out 200 CVs at a train station
When Trevor Walford, 63, from Keighley, West Yorkshire, found himself out of work in October this year he took matters into his own hands. With a vast array of experience in the service industry, starting out as a trainee butler at Buckingham Palace before working at hotels such as The Ritz in London, Trevor still found it very hard to get a foot in the door when he was made redundant from his job on a cruise ship due to coronavirus.
"I'd sent over 700 CVs out and I was starting to feel demoralised," Trevor tells Placed. "I had so much experience but I wasn't getting any replies. So I decided to go old school and hand my CV out at Leeds railway station. I decided that meeting the public would increase the amount of contacts I could make."
Trevor was then inundated with responses, featured all over the news, and within a week, he had a job as a training manager at a restaurant chain called Estabulo. And Trevor has some advice for people applying for jobs at the moment. "Keep going," he says. "Get out there, meet people, network both online and off, and think outside the box if you can."
The woman who made herself out of Lego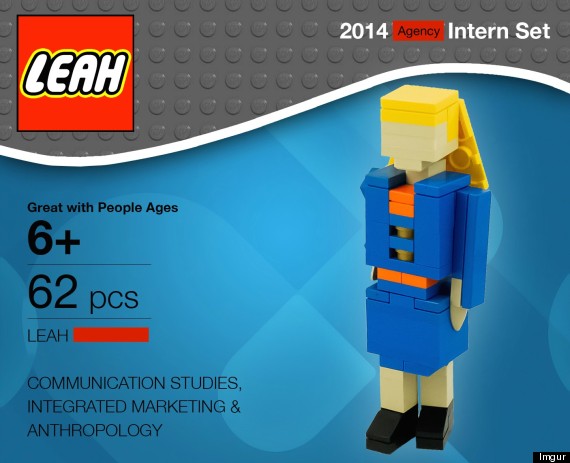 Back in 2014, Leah Bowman, a student from Iowa, blew up on Reddit when she applied for an advertising job with a CV where she presented herself as a piece of Lego – complete with a tiny, boxed, real-life Lego version of herself.
Her job application titled "Lego me" invited employers to "build the perfect intern" and listed skills such as an "eye for design" and "fantastic people skills". It caught the eye of bosses and she quickly snapped up a job at a Chicago ad agency.
The man who advertised himself on a billboard
Meet Adam Pacitti, who had the bright idea of advertising his services on a billboard in Shoreditch, London, after he graduated in 2013. His face was plastered to the billboard and it clearly displayed a website which showed a video CV introducing himself to employers. Adam spent his last £500 to pull off the stunt, which results in 100 job offers, including one that he accepted from a top media firm.
Adam revealed at the time: "The original tweet I sent out, telling people what I was doing with a photo of me and the billboard had 1,600 retweets and (celebrity) endorsements. I had thousands of emails and an unbelievable amount of interest." Pretty clever.
The woman who sewed her own CV
New York-based graphics student Melissa Washin really stood out when she wanted to apply for creative jobs by printing her CV onto fabric, which she then sewed by hand, including her own letterhead.
The CV stood out so much that it was featured on worldwide news websites and she got the first job she applied for at a fragrance company, and she has since gone on to work at brands such as Etsy and Modcloth.
"All design students were tasked with preparing things we'd need in the business world, things like creating mission statements and designing resumes," she said. "Being designers, creativity is literally part of our job description, and of course our resumes (CVs) should reflect that."
Words: Rosie Gizauskas